Discover Wildling Tulips
The specie tulips have a charm all their own, with the small size, but tough constitution of plants that grow in the wild.
Tulipa polychroma is an example of the delicacy of the flower and form of the species class. Grown in pots makes them easy to view and enjoy.
Tulipa polychroma is an example of the delicacy of the flower and form of the species class. Grown in pots makes them easy to view and enjoy.Source:Â hirsch
The Originals
You might think you know this flowering bulb from Holland.
After planting lily-flowered, Darwin Hybrids, Early and Late types, Double and even Rembrandts, you may feel as though you have a good understanding of the world of tulips. But the specie types, those which are closest to the way most appear and grow in the wild, may be a new look for your spring garden.
We could call them "the original tulips".
They can be naturalized, which means planted in a manner that mimics nature and maintains itself and multiplies. Low growing, there are many types that can grow in grassy areas. Like all those plants which grow from bulbs, the foliage must be allowed to continue until it withers on its own.
Delicate, wild look of botanical tulip class. Photo source: morguefile
Botanical Tulips
Wildflowers of the tulip family.
Tulips are divided up into fifteen groups (called Divisions) in horticulture.
This group of tulips is listed under the 15th Division.
SPECIE TULIPS -DIVISION 15
The many specie tulips are thrown together in the 15th group of tulip divisions. They may or may not be in commercial cultivation, and have a much smaller flower and size as a general rule. While they may have cultivars available, most do not.
Tulip Divison 15: Wild, AKA Botanical, Members of the Family
Origination, Use, and Cultivation
Botanical tulips or specie types are tulips as they appear in the wild, including both wild varieties and selections developed from them. Native to a very wide range as different as Southern Europe, Israel, North Africa, Anatolia, and Iran to the Northwest of China. [1]
The species group is suitable for naturalizing, which is a practice of leaving plants to themselves to multiply into a stand that looks as though it grows wild in nature.
Most of the botanicals are quite hardy, as far north as Zone 3 for many of them. These types of tulips are usually diminutive in size, and should be planted with other miniature growing companions in situations like a rock garden.
They can also be featured in containers or raised beds, where they benefit from close-up viewing.
Compare Hybrids Vs. Species
As is true of all hybrids, they are specially pollinated so that they will not come true from seed. Since almost all of the tulips we plant in garden are purchased as bulbs this is not a problem.
Hybrids are usually taller than species types
Hybrids have many colors and combinations not found in the species
Species are smaller in flower and foliage, as a general rule
Varieties
T. Clusiana
Tulipa clusiana in the evening  |  Source:  Pear Blossom
Peppermint Stick Variety Is One of the Most Popular
Tulipa clusiana is also called "The Peppermint Stick Tulip" and "The Lady Tulip". It is a very old variety originally from Iran and Afghanistan. At least that is what was originally thought. It seems now to be placed as coming from Spain. Wherever its origination, it is a beautiful little thing with lots of history.
T. clusiana 'Lady Jane' is a selected variety, These species bloom midseason and are very slender and delicate looking, but sturdier than they appear.
Tulipa clusiana var. chrysantha 'Tubergen's Gem' is a deep golden color brushed with bronze.
Although I grew these species in a former residence, they seem to be very difficult to find nowadays. The Dutch growers are no longer producing many of these old lesser known types of tulips.
T. Praestans Unicum
Tulipa Praestans Unicum is a striking tulip which gardeners will love. It has the added attraction of cream variegated foliage.
Tulipa Sylvestris
It is the most tolerant of moisture in summer. (Still needing good drainage, but tolerant of rainy weather during the dormancy).
Also known as the Florentine tulip and native to the Mediterranean, Tulipa sylvestris in some places is considered a weed. Sometimes called the "woodland tulip", it spreads by stolons which may become invasive.
T. saxatilis
Tulipa saxatilis species tulip is a rose-lilac color with a yellow center. This tulip dates back to 1825, which makes it ideal for heritage heirloom plantings. It is good for the south and naturalizes well.
Butter And Egg Colors Of Tulipa Tarda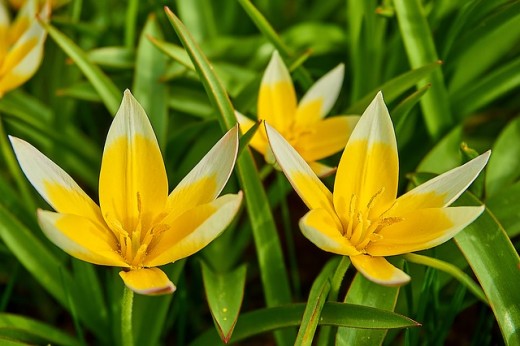 The golden yolk and pale yellow tips are the petal colors of this easy to grow flower.
|  Source: LMoonlight
Tulipa Tarda
Tulipa 'Tarda' is a little bloom with a bright "butter and eggs" personality.
Its April blossoms on short plants bring a spot of yellow and white into the spring garden. They remain closed on cloudy days, but respond to warmth and sun with a flat wide open bloom. This selection is hardy, and multiplies well.
Tulipa tarda has been cultivated in Holland since 1590.
Tulipa batalinii
Tulipa batalinii (Batalinii Tulip ) is frequently found under T. linifolia. This specie tulip has single, soft yellow flowers on 6-10″ stems in April.
Tulipa Violacea or Is It T. Humilis, or T. Pulcella?
Track down this unusually colored tulip by knowing that it has changed names more than once. "Tulip Pulchella Violacea", T. humilis, T. pulchella has been around since 1860. An heirloom plant, it can be also found as named varieties: 'Persian Pearl' or "Black Base'.
Tulipa Violacea Pallida is also known as "Tulipa humilus 'Alba Coerulea Oculata'". It is a lowgrowing white tulip with a bluish eye.
The Red Crocus Tulip
This purplish-rose flowering bulb needs sun, is hardy, and blooms at the beginning of the spring season in March.
Tulipa 'Violacea' is called a "crocus-tulip" which clues you in to its stature and appearance. Like many of the species, it blooms early in the season.
Its native origins in Kurdistan indicate that it is hardy. This little tulip has a bright violet red color.
Tulipa Pulchella
Tulipa pulchella (cultivar) in flower beds in the Botanical Garden of Moscow State University "Aptekarsky Ogorod". [CC BY-SA 3.0 ], from Wikimedia Commons. Source:  By Kor!An 
Tulipa Hageri 'Little Beauty' For The South
Tulipa hageri 'Little Beauty' is a pretty little tulip, a cherry red color with blue centers, it blooms in May in most gardens. Hardy and liking a sunny spot with a fairly dry summer dormancy, it will multiply when happy.
Little 4 inch tall tulip in a big color, "Little Beauty". Brings the beautiful color that tulips are known for to containers, outdoor fairy gardens, rock gardens, and anywhere that you can view them up close.
This specie variety can be naturalized.
Tulipa hageri 'Little Beauty' is a good choice for southern states, which is unusual for tulips which normally require colder temperatures to bloom.
T. Saxatilis Spp. Bakeri
T saxatilis spp. bakeri  |  Source:  Leif Stridvall
Lilac Wonder
Lilac Wonder tulip, Tulipa bakeri, is a very pretty pink and would be a nice addition to a fairy garden. It is a subspecies of T. saxatilis.
It is one of the most popular of the the botanical tulips group, for good reason. The wide and substantial flower makes a good impression considering the small size of the plant.
Lilac Wonder Delicate Colors
Tulipa saxatilis 'Lilac Wonder' Place:Osaka Prefectural Flower Garden,Osaka, Japan   |  Source:  I, KENPEI
As Cut Flowers
Specie Tulips are charming in the garden, but for vases, it is the Darwin Hybrids that hold court with their very large blooms and tall stems. If you wish to display the tiny flowers of the species, use very small vases and containers sized for violets or Convalleria.
Still, if you are making a small bouquet, such as a tussy-mussy, these little wild tulips would be charming. Larger flowered, short-stemmed blooms could be floated in a bowl, or secured into a base of Oasis.
Naturalizing
Leaving plants to themselves to multiply into a stand that looks as though it grows wild in nature. These bulbs would look lovely if they liked their situation enough to naturalize.
Wildlings In The Spring Garden
Because these are desired for a more perennial planting, it makes sense to consider their growing conditions more carefully. When planting bulbs as annuals (the way we tend to grow the Dutch grown hybrids) it doesn't matter whether we allow them enough sun or such matters. A guide to successfully growing specific species may be very helpful.
Another reason to purchase a book dedicated to them is the fact that most articles usually written about spring blooming plants are centered on those most commercially available and commonly grown. You may desire an more complete introduction to this class division once they capture your heart.
Heirloom Bulbs
Specie tulips are useful for heritage gardens, and many are known from the 1600s.
Tulips: Species and Hybrids for the Gardener
Include Them In Your Fairy Garden
Picture some tiny Tulipa humilis ( read about them on this page) in a fairy garden. The pink color, low height, and miniature foliage would scale beautifully with other small plants and decorative items.
Ways To Use These Dainty Flowers
Consider creating a rock garden to showcase a number of little beauties of the specie tulip varieties
Have an herb garden with low growing thymes? Plant some tulips underneath to brighten the spring landscape
Edge a walkway with a selection of botanical tulips that grow similar heights and have coinciding bloom times.
A dooryard garden with botanical tulips in spring followed by miniature forms of hosta for the rest of the growing season.
These delicate and graceful tulips would make perfect container plants for an early show with violas and small leaved ivies.
"Tulips shyly smiling, greet the spring."
– Mary Havran