The Art of Topiary
The practice of clipping plants into fanciful shapes resembling animals or various geometrical forms seems to have been traced to Roman times.The paper trail even leads to a particular individual named Cneius Matius Calvena, living in the time of Julius Caesar -a friend and member of Julius Caesar's palace. From the Greek root 'topos', translated "place", comes the word we commonly use for these garden shrubbery forms, "Topiary"; the Latin borrowed from Greek topion little place,to create "topia" describing decorative garden work.
The garden art of topiary, more than any other gardening practice, shows the handiwork of human control of the landscape. So, I suppose that may help explain the Roman fascination with it.
In the 16th century topiary gardens came into their own as a very popular form of gardening and, ever since, a fascination with this endeavor of shaping plants into whimsical living sculptures has survived and thrived.

---
More permanent are the shrub forms that the gardens of England made famous.
Making a Shrub Topiary:
Plants That Make Good Candidates For Clipping
Small-leaved evergreens are best used; common box, Buxus sempervirens, is the classic choice.
Yew Taxus baccata
Sweet Bay Laurus nobilis
Holly Ilex aquifolium
Euonymus fortunei 'Silver Queen'
Lonicera 'Baggenses Gold'
Cotoneaster species
Tools needed
Pruning shears, or secateurs, are the necessary pruning tools and some people will prefer having special topiary tools.
Berger Topiary Shear with Leather Holster
Worth Topiary Hedge Shears
More Topiary Tools
Topiary Instructions
A long term project, shrubs may take three to ten years to be pruned into the desired shape. Usually a frame is used, although a freehand shape can be created. One plant may be used, or several for large forms (yes, elephants are one topiary shape that is popular).
Directions from Cornell University
Maintenance requirements
Regular trimming into shape, fertilizing, and proper watering are needed. Sometimes protection from winter cold and winds is necessary too.
Possible problems
Disease, insect damage, wind damage, and problems resulting from heavy snow or ice can all disfigure, or even completely ruin your prized topiary.
---
Public Gardens for Inspiration
In Columbus, Ohio a garden of topiary figures was created in 1992. It recreates the painting of George Seurat, "Sunday Afternoon on the Island of La Grande Jatte". With 54 topiary people, eight boats, three dogs, a monkey, a cat and a real pond, it is quite a scene.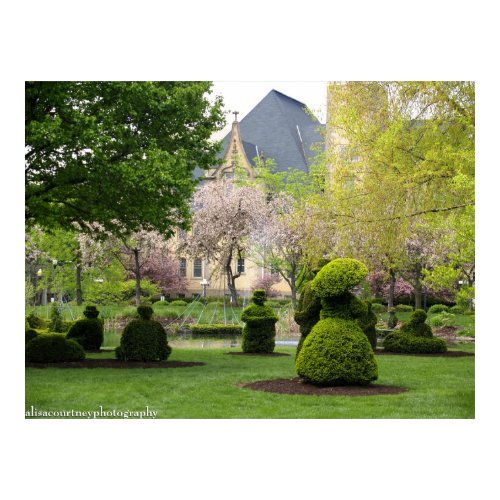 Columbus has a Public Topiary Garden
Two Methods To Make Topiary
The easiest way is with herbaceous plants, suitable for indoors or outdoors in the summertime. Ivies are popular, but other herbaceous plants have been used. Creating a form, either of wire or moss and training the plant to cover it can create a topiary sculpture. During an exhibition held at Inniswood Metro Park one year the shape of a bumblebee was created (pictured in the introductory photo). Forms like this are available online and in many garden centers. Ball on a "trunk" types, or "lollipop" shapes, mimic the standard forms that some topiary shrubs are clipped into, and are often used as indoor accents.
Galloping Horse Frame with Moss Topiary 62"H
is a large sized horse frame similar to
horse topiary photo
, but it is rearing up on its hind legs.
Steps to make your herbaceous topiary:
Five Easy Steps
1. Get your topiary wire form
2. Stuff the form with sphagnum moss. (There are kits available.)
3. Insert topiary plants between the wires into the moss.
4. Hang or place the topiary in the required sunlight conditions (usually filtered sunlight).
5. Water well. Keep moist.
List of plants useful for making your own topiary
lantana
fuchsia
hydrangeas
rosemary
hollies
ivies
boxwood
Additional plant list, history and tips for topiary.
Get your supplies conveniently online
Long Fiber Sphagnum Moss – 6 Cubic Feet – 11 Lbs
Topiary Forms
Cat Frame Topiary
is mounted securely and the wire frame may be opened up to place on larger shrubs. As your plant grows you pull the shoots through the wire and trim the leaves back to create a three-dimensional, cat-shaped topiary.

Topiary Turtle
(8″H x 12″W x 19″ D)
This hand-woven, heavy gauge steel wire form is already stuffed with sphagnum moss. The wire frame is painted black and double coated with epoxy to discourage rust, it blends into the background.It is easy to access the inside of the form and it comes with a twenty minute instructional video.
Topiary Turtle
Other Topiary Links:
Famous Levens Hall in England has some of the oldest topiary in the world.