Time to think of the autumn phase of the garden already. When we picture autumn we picture the trees ablaze with color here in the Midwest, and in the Northeast of the USA, but there are other players on the stage. Perhaps theirs is a supporting role, but many bring lots of surprising color and add to the grand tapestry of of the season.
Flowering Kale
I tried growing my own flowering kale one year. I bought little plants early in the season, but it turns out to have been a bad idea: they bolted in the heat and I had to buy plants at the nursery again for their fall and early winter color.
Sometimes early is not the best policy, at least for cool weather crops that you wish to peak in the fall. Since flowering kales are cole crops they need the same growing conditions: good quality soil, well fertilized. Good drainage, and medium moisture AND cooler temperatures.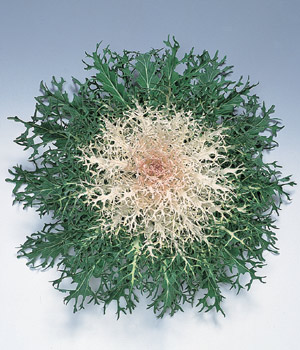 The look
These plants are the Koi of the vegetable world, bred for flamboyance and striking color combinations. Colorful kale are at their best when low growing and wide in proportion to height. They can get tall and leggy, but when grown well they are full cabbage patch circles measuring to 2 feet + wide. The kales and the cabbages are all classified Brassica oleracea.
They can last from October or November through April in some Southern ranges, but up here in the North the cold gets them around the first of the New Year. That is when we go into a deep freeze of near zero temps. We grow them from late September through Christmastime.
Growing notes
For more detailed instructions on growing Kale:
1 1/2 to 2 ft. HEIGHT, SPACING 12-18 in.
Start from seed in late spring
Cole crops are big feeders and like lime in the soil
Too little nitrogen reduces yields, shortens storage life, delays maturity
Once root-bound in a pot, they will not increase in size
Plant in full sun
Ornamental kales are biennial used as a cool season annual
-more from Growing cabbage.
I put mine in outdoor containers last year with sprigs of ivy and pine, and bright red bows. Once a hard freeze comes to stay (until temperatures drop to 15 to 20F), they do get frozen, and they do smell pretty bad, but until then they give pretty colors and something living to enjoy during most of the usually dormant season of winter. Fancy foliage for showcasing other fall plants and flowers in the autumn and holding center stage during winter when the ruffled edged leaves and the green plus white or purple stand out in the drab landscape.
Although I've never done this, flowering kale can be used as a "cut flower". The kale types, not the cabbage ones, are supposed to be edible- so you could use them as garnishes. The main edibility problem is whether they have had chemicals added to reduce the "legginess".
Hint: buy the biggest pots so they aren't "root-stunted"
Some named varieties of flowering kale are:
Red Peacock (red center)
White Peacock (white center)
Coral Prince (red center)
Coral Queen (red center)
Chidori (red, white)
Sparrow (red, white)
Kamone (red, white)
Dynasty Series are red, or white; with semi-waved leaves, they have round leaf form rather like giant roses. The Chidori Series, Osaka Series, and Nagoya Series are all heavily fringed and especially uniform. The Peacock Series is more compact than others and has "feathered leaves" .
Nagoya Flowering White, Red, Rose Kale 25 Seeds-Annual
Flowering Cabbage
The look
Growing in rosette form these can look like a grand rose bloom on the ground, with colors of pink, rose, green, or white in combination. The inner leaves are ruffly and petal-like surrounded what would look like guard petals…but they are all the leaves of this fantasy plant.
Growing notes
Horticulture practice for growing flowering Kale crop.
Growing from seed by sowing 6 weeks in advance of outdoor planting at 65 degrees F. for spring planting. Cabbage seeds are aided by light for germination, but you can cover kale seeds with 1/4 inch of soil.
The cabbage looper, caterpillar of the white cabbage moth is the worst pest.
Best grown in cooler temperatures
Plant in full sun
Light or moderate frosts intensify the brilliance of the foliage color
Mulch after planting to help stabilize soil temperatures and conserve moisture.
Seed sources are:
And plants from your friendly neighborhood farm market stand or nursery.
Fun facts
Can you eat flowering cabbages and kale? Technically yes, but they don't taste as good as the kind grown for the table. They are perfectly fine for a pretty garnish, though.
Cute way to teach "how to harvest kale".
Kale is the Scottish name. It's adapted from the Roman name cole.
Ornamental kales from Japan first appeared in our seed catalogs in 1936.
originally posted @ ilonagarden.blogspot.com