Begin in the Right Place
You may want to start creating a fairy garden within a moss garden, or perhaps plot it out within a flat container, Maybe tuck one away between some large rocks in your yard, but wherever you decide to situate a fairy abode it may end up being as fun and entrancing as any miniature world of tiny houses and furnishings could be! …But with the added fascination that tiny plants can give.
Create within a mossy wooded area
Containers such as wooden boxes, discarded wheel barrows, galvanized wash basins
Nooks within the garden
Wherever you plan to place this fantasy creation, it has some common characteristics that identify it as a fairy habitation.
small scale plants
miniature and fantasy accessories
props for the imagination
You don't have to have houses, tables and chairs or pretty statuettes, but they do lend an air of charm. Some of the most original and fascinating could be secret grottoes with just cobwebbed, lichen encrusted natural stone and objects with twig and bark constructions that look like they might house little sprites of the forest and bottom of the garden!
A Fairy Garden from Scratch
For starting a fairy garden, a mossy place under a tree like a moss garden would be the perfect base.
Something between making a doll house, growing bonsai, and making a rock garden, fairy garden communities take on a smaller scale of design and are perfect for small spaces.
The plantings are small scale and finely textured. Nothing too vigorous in growth, to keep upkeep at a minimum and to allow view of the added accessories. There are many plant choices with diminutive leaves, flowers, and polite growth patterns. Look in your favorite local nursery for rock plant selections that grow well in your area.
Examples Of Miniature Plants
These miniature gardens have become so popular that it is easy to find the small plants, fairy statures, tiny furnishings and numerous plants that are earmarked for a fairy gardenscape. Just to be safe, I would take my own list of desired plants…just in case someone made a mistake and suggested one that would quickly grow out of bounds or look out of place.
"The only words that ever satisfied me as describing Nature are the terms used in fairy books, charm, spell, enchantment. They express the arbitrariness of the fact and its mystery" ~ Gilbert Keith Chesterton
Start with some tiny foliage and flowers
Crocus chrysanthus
tiny hoop-petticoat daffodils (Narcissus bulbocodium)
hens and chicks, Sempervivum spp.
Androsace sarmentosa
Aquilegia flabellata
Dianthus alpinus
Origanum amanum
Arenaria montana
Armeria maritima
Sagina subulata
Johnny Jump Up Violas
Tip: Use Bonsai Plants
Once the plants are in place, use stones for little pathways, dry creeks, or to make little grottoes.
Dwellings
Mythical beings need a place to reside or at least hang their coats and sup. Making the houses and little furnishings is part of the fun, But mortals have impatience, and purchasing some of the many adorable garden arbors, benches, and comforts is a favorite part of their fairy abodes.
---
I love this video on making a fairy garden… it shows just how easy it can be and is a delightful tour through the process. Promoting a book on making miniature scenes like this, you may just want to order a copy for your leisurely perusal.
Gardening in Miniature: Create Your Own Tiny Living World
Tiny fairy houses, or even larger scale ones can make beguiling projects for old and young alike. Interesting rocks to make nooks and crannies, simulated water with small pebbles in a stream-like channel, or making a cobbled walkway, the possibilities will burst forth as you begin setting up the plan and creating your tiny fantasy world.
Little known fact: Fairies are said to love thyme. In France and England, people often created a bed of thyme to attract fairies and make them feel at home in the garden. Make a 'thyme seat' and outfit it with tiny corner of fairy house made of clay pots and fairy chairs.
Furnish your Fairy Garden
Wherever you decide to situate a fairy garden, it may end up being as fun and entrancing as any miniature world of tiny houses and furnishings could be! More Fairy Gardens
an old hollowed trunk to create the house
mosses become cushions, chairs and footstool covers
milkweed silk for pillows and bedding
feathers to make coverlets and decorate windows
empty walnut shells for perfect little sinks and bowls
acorn caps to make dishes
Reeds and grasses can be woven into mats and rugs
Grandma Makes A Fairy House
Another idea for a diminutive fairy theme could be centered around old trunk of a fallen tree. Carve a small platform for 'fairies', make niches for moss, foot it with rock garden flowers. Create tiny ladders to various parts of the little garden: to a tree shelf, atop stones, to little buildings.
Tiny ladders and twig houses and furniture lend an air of invitation to peer closer for signs of habitation. Acorn cups set in readiness for tea just right for a Thumbelina.
Or use a small pond or fountain as the center around which the fairy community may gather, pruning dwarf bushes to make miniature treelike forms. Small ornamental bridges, "stream" made of river rock, all giving the impression of a gardened space made on the larger scale.
The Primrose Fairy Cottage

Beautifully made fairy house with fine details.
If you should have need of some inspiration, the books by Barry & Tracy Kane are an amazing resource of fun projects and ideas. There are also craftspeople who specialize in fairy garden accessories. I even made a little imaginary digital photo to illustrate what I mean.
Barry & Tracy Kane's Fairy Book

Meet Tracy Kane.
Gift Idea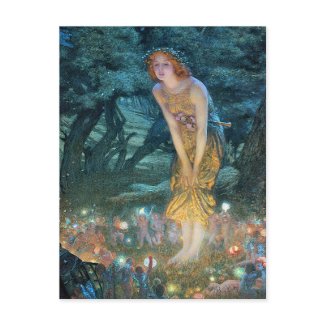 Postcard of A Midsummer's Eve, to send with the makings of a fairy garden?
Links:
More Links:
Build a Fairy House
Fairy Houses tucked into a hill.
Fairy Houses from Tracy Kane