Herbs, as a word definition, simply refers to plants, but when we think of herbs we think of much more. We think of fragrance, and taste, and healing.
The word herbaceous simply means not woody, although the odd thing is that some herbs are woody plants, such as Bay leaves from a tree and Rosemary, which is a shrub.
In the garden, we know herbs as a certain plants having aromatic and flavorful parts, whether leaves, seeds or roots. Our first thoughts are often of culinary herbs, but plants which are particularly useful for any reason might come under a category of "herb plants" to be included in an herb garden. Plants can be used for medicinal purposes, for dying cloth, for nurturing honeybees. The scientific Latin names using the descriptive "officinalis" term is a tip-off that the plant was once an important herb for medicinal use.
The term "herbs" used in this sense, meaning any plant we find useful for purposes such as flavoring food, has departed from the scientific definition of herbs as plants which do not have woody parts, thus "herbaceous"(upper parts which die down). Our use of "herbs" in the garden can include Bay trees, sub shrubs like sage, as well as the usual suspects of basil, parsley, and chives.
Highlighting Favorites
Herbs:
Chives, Allium schoenoprasum
Dill, Anethum graveolens
Lavender, Lavandula vera
Marjoram, Origanum majorana
Sweet Woodruff, Galium odorata
Echinacea, Echinacea purpura
How to Grow and More from the blog:
Making New Lavender Plants
Pruning Lavender
Squidoo Lens Focus on Fragrant Lavender
Menu: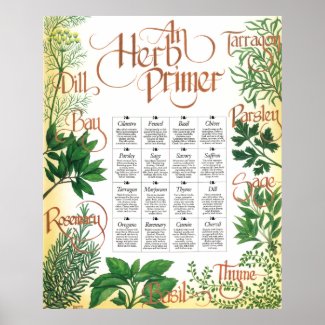 Herb Primer poster print
by
eBrushDesign
See other
Cooking Posters